Every year for the month of June, we dedicate this special holiday to the African American ancestors who fought long and hard to gain their freedom from slavery. In doing so, we like to celebrate this year Juneteenth with events that are happening this month in honor of the ancestors for their hard work being paid off.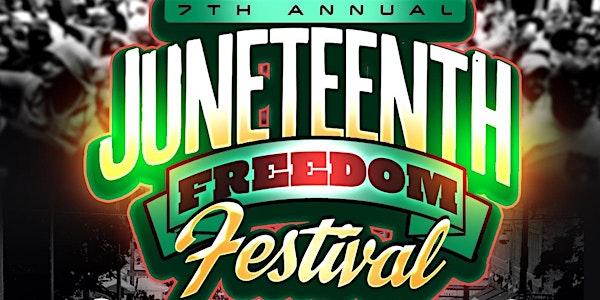 JuneTEENS Homebuyers Workshop
Set your children up for life-long money success. Join our panel of professionals which includes a credit enhancement specialist, financial advisor, high school guidance counselor, college financial aid counselor, banking industry professional, and real estate agent. The event will be held on Tuesday, June 13 · 6 – 8:30pm EDT, 2018 Main St 2018 Main Street Suite A Columbia, SC 29201. This workshop is specifically designed for teens and young adults to learn the financial freedom at an early age. Our panel of professionals will be onsite to answer any questions you have. Click here for more details!
7th Annual Juneteenth Freedom Festival
Get ready! The long-awaited moment has finally arrived! Come and be a part of our one-of-a-kind family celebration at SEGRA PARK, 1640 Freed St. Columbia, SC 29201 on Saturday, June 17th for The 7th Annual Juneteenth Freedom Festival. Brace yourself for a day filled with electrifying live music, exhilarating vendors, a 50th hip-hop tribute, and so much more! If you are interested in being a vendor, sponsor, performer, or volunteer, please visit Juneteenthfreedomfest.com for more information. Don't miss out on this unforgettable experience!
FREE FREE FREE FREE FREE FREE FREE FREE
Click here for more details!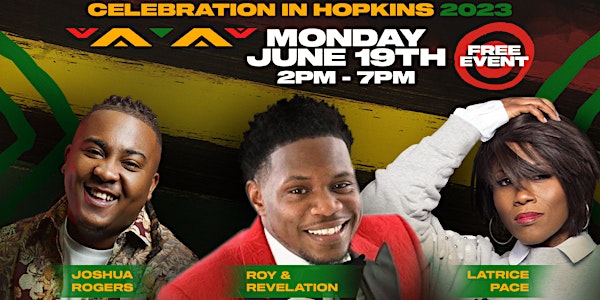 Juneteenth Celebration In Hopkins 2023 Joshua Rogers Roy & Revelation
Our fifth annual Juneteenth Celebration Hopkins [FREE EVENT] is a one-day event, Monday June 19th, 2023, 2PM -7PM on the grounds of the Historic Harriet Barber House, 116 Barberville Loop, Hopkins, SC 29061 Celebrating 150 years on the land (in partnership with The Congaree National Park 100 National Park Road, Hopkins, SC 29061). The event will feature Activities, Exhibits, Food Vendors, Family Fun, Touring The Congaree National Park / Park Activities plus Live Entertainment featuring Malaco Records Recording Artists ROY & REVELATION, National Recording Artist / Sunday Best Winner JOSHUA ROGERS, from the Anointed Pace Sisters and Donald Lawrence & Company LATRICE PACE, CULTURAL EXPRESSIONS (African American Drummers & Dancers) , Inspirational artist KHRYZ HENRY, Gospel Artist JARVIS JETT, CEB DANCE MINISTRY, BUFFALO SOLDIERS, and many more!
visit the official website at www.juneteenthcelebrationhopkins.com or click here for more details!
3rd Annual Juneteenth Family Fest
We will kick off our 3rd Annual Juneteenth Family Fest! This community-family-based event will take place at the Riverfront Park located at 1061 Everglades Ave in North Charleston, SC, and is open and free to the public. You can arrive as early as 2 pm, and festivities will begin at 3 pm.  This day-long celebration will be power-packed with activities ranging from live performances, black art displays, games for children, and delicious cultural food! There will also be non-profit organizations, local community service vendors, as well as Historical Black Colleges and Universities on site. This joyous occasion will be topped off with a grand fireworks show finale that will be worth watching with your family and friends! We're asking the community to come out and celebrate where we've come from, as we look forward to where we are heading and what we desire to accomplish.
2nd Annual SC Juneteenth Freedom Fest Parade
The 2nd Annual SC Juneteenth Parade will held on Main St, Columbia, SC 29201. The parade will start at 10am. Everybody in the Met get ready for the biggest display of black excellence in the Carolinas ranging from car clubs, bike shows, drumlines, Devine 9, and so much more.
Juneteenth at the CMA
In celebration of Juneteenth, the CMA is open and offering enjoy free admission from 10am – 5pm on Monday, June 19th located at 1515 Main Street
Columbia, SC 29201. Enjoy exhibitions including Resurgence and Renaissance: Art of the Catawba Nation Since 1973, Tina Williams Brewer: Stories of Grace, Bullets and Bandaids: A Veteran Anthology, and Constantine Manos: A Greek Portfolio, as well at the CMA Collection. With support from Councilwoman Gretchen Barron, Richland County Council, South Carolina.
More about:
---